Mesa Arch
Distance: 0.6 miles
Island in the Sky District, Canyonlands National Park, near Canyonlands in Southeast Utah
A short, easy hike leads to a photogenic arch perched on a cliff edge with great views of the La Sal Mountains, Buck Canyon and Washer Woman Arch. This is a popular trail, especially with sunrise photographers.
Distance: 0.6 miles (Loop)
Elevation: 6,140-ft. at Trailhead
Maximum elevation - 6,102-ft.
Elevation Gain: -38-ft.
Difficulty: easy
Basecamp: Canyonlands / Moab
Region: Southeast Utah
Trail Description - Mesa Arch
This easy loop hike travels through pinyon/juniper forest and around sandstone formations on its way to Mesa Arch, set on the edge of a 500-ft. cliff, 1,200-ft above Buck Canyon. Photographers flock to the arch, using the sandstone formation to frame views of the La Sal Mountains to the east and the deep gorges of Buck Canyon. Note that there are a number of buttes and pinnacles rising to the left (east). Look carefully and you should be able to see Washer Woman Arch near the top of one of the formations.
The loop can be walked in either direction. The park service has installed steps to facilitate a climb over a small rise along trail. Rock cairns mark the route where it crosses slickrock. Signs along the way describe the plant species passed on the trail.
This is a very popular hike, so don't expect solitude. The area can get very crowded during the early morning with photographers hoping to capture the perfect sunrise photograph.
Elevation Profile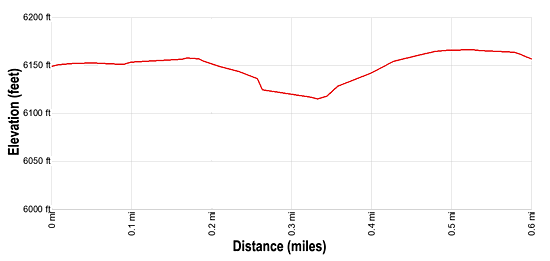 Driving Directions
From Moab: Head north on US 191 N (Main Street) for 11 miles and turn left (west) onto UT 313 W. Follow UT-313 W for 14.6 miles to the "Y" intersection where UT-313 turns left. Continue straight ahead on the Grand View Point Rd / Island in the Sky Road for 12.8 miles and turn left into the Mesa Arch parking lot.
Trail Resources