This hike can either be done as a short, moderately-easy walk to see Fallen Roof ruins or a long, more difficult trip that also visits Seven Kivas.
See Trail Detail/Full Description
Distance: 3.0 miles (round trip) to Fallen Roof Ruin
9.2 miles (round trip) to Ruin Viewpoint
12.2 miles (round trip) to Seven Kivas

Elevation: 6,390-ft. at Trailhead
6,040-ft. at Fallen Roof Ruin
5,630-ft. at Ruin Viewpoint
5,445-ft. at Seven Kivas

Elevation Gain: -350-ft. to Fallen Roof Ruin
-760-ft. to Ruin Viewpoint
-945-ft. to Seven Kivas

Difficulty: moderate-strenuous
More Hikes in:
Blanding / Mexican Hat / Southeast Utah
Why Hike Road Canyon
This hike can either be done as a moderately-easy walk to Fallen Roof Ruins, an interesting Anasazi site located in an alcove along the canyon's north wall, or as a longer, more challenging trek that also visits Seven Kivas, a fascinating site with seven kivas in various state of decay. On the way to Seven Kivas observant hikers will spot a few more ruins tucked into southeast facing alcoves and beneath overhangs.
The hike to Seven Kivas involves a bypass trail around a large pour-off that descends steep friction pitches and slickrock ledges. The route is only recommended for experienced, sure-footed canyon walkers. Everyone else should use the shorter, easier route to Seven Kivas but still hike the upper end of Road Canyon to visit Fallen Roof ruins.
Hikers looking for a longer hike are encouraged to continue down canyon beyond Fallen Roof even if they do not make it all the way to Seven Kivas. Past the ruin the route down the scenic canyon sees fewer visitors and offers a degree of solitude not found on many of the more popular nearby trails.
The moderately easy part of the walk down canyon ends at 4.1 miles where a bypass trail around the pour-off follows a cairned route along a high bench for half a mile, reaching the steep descent back to the canyon floor at 4.6 miles. This spot, which I call Ruins Viewpoint, is situated directly across the canyon from an interesting ruin. Hikers who are uncomfortable with continuing beyond this point will find some good spots to take a break and view of the ruins across the canyon before retracing their steps back to the trailhead. This option makes for a nice 9.2 mile round-trip hike.
Elevation Profile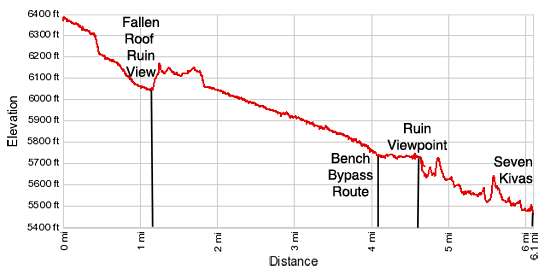 Trail Resources
Trail Detail/Full Description / Trail Photo Gallery / Trail Map
Basecamp(s) Information:
Blanding / Mexican Hat
Region Information:
Southeast Utah
Other Hiking Regions in:
Utah