Moon House, one of the best archaeology sites on Cedar Mesa, consists of three separate structures with 49 rooms. Well preserved pictorgraphs grace the walls of an interior courtyard and some of the rooms.
See Trail Detail/Full Description
Distance: 3.2 miles (round trip) to Moon House

Elevation: 5,815-ft. at Trailhead
5,680-ft. at Moon House

Elevation Gain: -135-ft. to Moon House

Difficulty: moderate
More Hikes in:
Bears Ears NM / Mexican Hat / Southeast Utah
Why Hike Moon House Ruins
For hikers interested in archaeology few places can top Cedar Mesa. The area is literally a vast outdoor museum of Anasazi ruins and rock art.
Of all the archaeology sites on the mesa many consider Moon House to be among the best. The well preserved site, consisting of three separate dwelling with a total of 49 rooms, is one of the largest on the mesa and features fascinating pictographs on the interior walls of the structures. Also noteworthy is its construction that places a wall along the outer edge of the alcove, creating a sheltered inner courtyard. A series of room built in the back of the alcove open onto the courtyard.
The short strenuous hike to the ruins traverses steep rocky slopes and slickrock and is not recommend for anyone with a fear of heights. Getting to the trailhead takes longer than the hike and involves a driving along a rough dirt road with sections of exposed slickrock. While two-wheel drive vehicles with good clearance can make the trip, I personally recommend a 4WD or high clearance vehicle for the journey.
A permit system is now in place to control the number of daily visitors and protect the fragile site. Permits are available at the Kane Gulch Ranger Station and can be reserved in advance.
Elevation Profile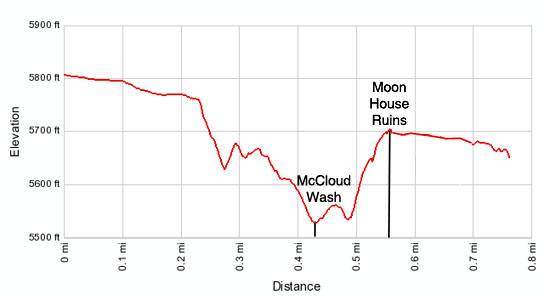 Trail Resources
Trail Detail/Full Description / Trail Photo Gallery / Trail Map
Basecamp(s) Information:
Bears Ears NM / Mexican Hat
Region Information:
Southeast Utah
Other Hiking Regions in:
Utah